Fire in the Pines Virtual Festival 2020
2020 presented many challenges, but it was an opportunity for Fire in the Pines Festival to go virtual.  A virtual festival cannot compare to an in-person festival, however we can still give you the same knowledge about controlled burns and longleaf pine ecosystems!  We hope our virtual festival is engaging, informative and inspires you to explore our natural areas.  Field professionals in longleaf join us via FB Lives for interactive chats and in our mini series to tell you more about longleaf & fire.  Click below to explore the different components of our virtual festival.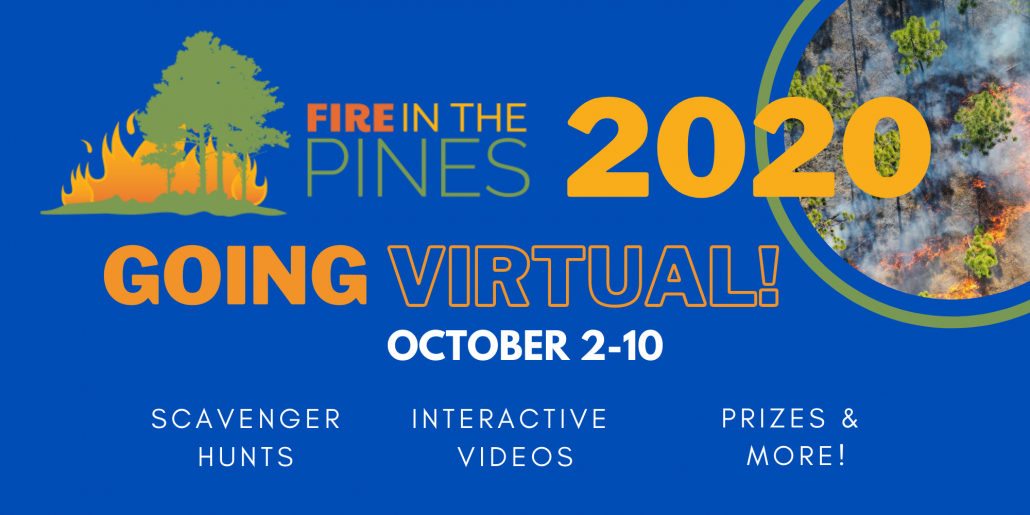 Scavenger Hunt!
Let's get outdoors and explore!
Visit local parks and public areas across New Hanover, Brunswick and Pender County to discover native wildlife, plants and more.
Download FREE iNaturalist app & sign up for the Fire in the Pines Scavenger Hunt 2020.
Share your observations through iNaturalist to win a prize!
Scavenger hunt is October 2-9.
Fire in the Pines Mini Series
Learn about fire, the longleaf ecosystem, carnivorous plants and wildlife through our Fire in the Pines Mini Series!
Join conservation professionals as they bring us through what makes a longleaf ecosystem across our southeast forests.
Prizes, Music and more…
We have lots of giveaways for participating in our scavenger hunt as well as our online activities!
Stay tuned for live talks from field professionals and Q&A's to answer any questions you guys might have.
Folkstone String Band will also be performing a live music event!
You can tune into these from your computer, smartphone or tablet.
Our 'Longleaf & Fire' video is an overview of the longleaf pine ecosystem and how fire plays a huge role in shaping the forest for both plants and animals.  Our field professionals will take you through the different parts of longleaf.  If you want to learn more about a topic, be sure to check out our mini series!